The Aikido seminar dedicated to Morihei Ueshiba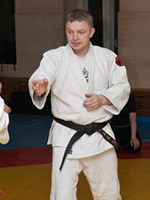 The
Mumonkan Aikido Club
is pleased to invite you to the
seminar dedicated to O-Sensei Morihei Ueshiba's, the Founder of Aikido, 130th birthday anniversary
. The seminar will be held by
Vitaliy Goleshev

(4th dan Aikido Aikikai),

the head of the Mumonkan Club
, and will take place on 13 and 14 December 2013, in Minsk.
We will be glad to see anyone who is interested in Aikido, martial arts and combat sports as well as all those who is willing to take part in our bright lessons.
Schedule:
December 13, 2013 (Friday) – from till
December 14, 2013 (Saturday) – from till
Place: School #7 of Olympic reserve on combat sports, 7 Karalia str., Minsk.
Should you have any questions, please contact us by phones (+375-29) 654-1615 /Vel/, (+375-29) 754-1615 /MTC/ or by e-mail aikido.by@gmail.com
See also: