Aikido news, seminars and information
Topical news
We announces intake for Aikido groups on 2014-2015. You are welcome!
News 2014
An Aikido training certification seminar will be held from 6 to 7 December, 2014 in Minsk.
From 22 to 23 November 2014 an Aikido seminar will be held by V. Goleshev in Navapolatsk.
On October 1, 2014 Aikido trainings in fighting gymhall Sports Complex "Uručča" are resumed. Classes: Tuesday and Thursday, from 9 pm to 10 pm. You can see address of dojo at the "Schedule" page. You are welcome!
July 29, 2014. Dear friends! Please be informed that on August 11, 2014 regular trainings in Mumonkan Aikido Club are resumed. You can find the schedule of trainings and directions to our dojo at the "Schedule Aikido trainings" page.
July 1, 2014. The results of the training season 2013-2014 in the Mumonkan Aikido Club.
From 16 to 17 May 2014 an Aikido seminar will be held by V. Goleshev in Navapolatsk.
April 14, 2014. To the Aikido fans in Vitebsk. There is a new instructor in the Mumonkan club Vitebsk branch. So, there is also a new contact phone number (+375-29) 296-2672. Please contact Mr. Viacheslav Agradnichevsky concerning the Aikido classes in Vitebsk.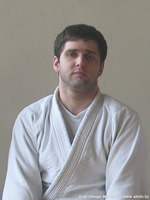 April 6, 2014. We heartily congratule Alexander Nestiuk, instructor of Mumonkan Aikido Club, on passing 2 Dan Aikido Aikikai certification exam. We wish him health, good luck, and we also wish him not to stop on what has already been achieved and further success on the Way of Aikido!
From 3 to 6 April 2014 an Aikido seminar will be held by shihan Mr. Makoto Ito in Minsk.
March 15, 2014. We'd like to invite you to our Aikido trainings in Navapolatsk. The trainings are held in the fighting gymhall of the Sports Complex "Atlant" at 49A Maladziožnaja str. For any questions, please contact to Mr. Alexander Zhin, the Mumonkan Aikido Club instructor, by phone (+375-29) 674-7623. Welcome to our classes!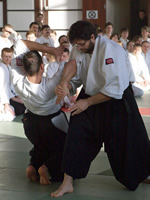 Our sincere congratulations to Mr.
Andrei Mostovnikov
, the Chairman of the Belarusian Aikido Federation, with awarding him of 5th Dan Aikido Aikikai. We wish Andrei Vasilyevich happiness, health, good luck and continued success in the Aikido development in Belarus and abroad.
See also: