Aikido is a martial art created by O-Sensei Morihei Ueshiba in the 30-ies, XX century. Technically Aikido is a synthesis of various martial arts and it is based on a principle of use of force and inertia of the opponent against himself. It allows quick and effective neutralization of the conflict.
Please, come to the Mumonkan Club
for training in Japanese martial art of AIKIDO
We invite to Aikido trainings in Minsk, Vitsebsk and Navapolatsk all those are interested in applied aspect of martial arts. Your sex and level of physical fitness does not matter. The intake to Aikido groups is open constantly. Call us and come to Aikido training.
Mumonkan club is one of the leading Aikido schools in Minsk and Belarus. The club has two branches (in Vitsebsk and Navapolatsk), and it is a part of Belarusian Aikido Federation. The training program includes the following:
Aikido techniques studying;
studying safety tips, throws and holds;
techniques of dealing with an armed opponent;
protection against simultaneous attack of several persons.
Some «PRO» arguments
to come to Mumonkan Aikido Club
We have warm staff
Our club trains people of all ages: children, teeners, men and women. You will feel comfortable anyway.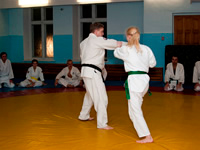 Trainings are in the evening
Our classes begin when the working day is over. So, you can give a little time on your own precious self without fear of being bothered over trifles. An Aikido training is a good way to take mind off things.
Easy-to-get dojo
You can take your aikido classes in the gym where you get the most convenient way to. In Minsk, one dojo is in the central city (a 5 minutes' walk from the underground station), the second one is in the SC "Uručča". In Vitsebsk and Navapolatsk, the dojo are also intown.
You get a wide range of self-defense skills
Our trainings contain not only the classical techniques. We strive to complement and adapt the Aikido art to the real life needs. We also focus a lot of attention to studying throwing and striking techniques, fighting tactics.
Aikido classes are dynamic
However, the training loads are up to you. The training program is based on a build-up technique, the intensive tasks are sandwiched with the calmer ones.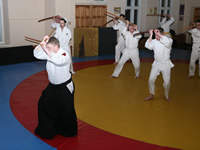 We studying work with weapon
Besides studying Aikido techniques, work with weapon by Katori Shinto-ryu technique (bokken, jo, tanto). Mumonkan is one of the few Minsk Aikido clubs, where Katori Shinto-ryu is practiced.
For more information about our view of martial arts and our view of training process, please see at "Our view of aikido and unexpected attack" page. Detailed information on time and place of training see at "Schedule of trainings and addresses of dojos" page.
See also: