How to behave at your first Aikido training?
So, you have decided to come to the
Mumonkan club
for your first Aikido training. We'll provide you with a few simple guidelines and tips that will allow you to quickly get used to the unusual conditions.
A typical question that the beginners always have is what to bring to their trainings?
Bring with you
Sports clothing (pants and a T-shirt); the clothing should be loose, not tightening your movements. Some newcomers come to practice Aikido in shorts. However, we do not recommend wearing shorts. There are always moves in a suvari-waza position (kneeling) during the warm-up. Besides, some Aikido techniques assume that you kneel. Thus, you risk hurting the skin on your knees very quickly if you are wearing shorts.
Gym shoes (slippers or flip-flops) to walk from the locker room to the dojo. Entering the dojo barefoot is considered bad manners, since the dirt then appears on the tatami as trainings are held barefoot.
A towel and soap if you want to take a shower after the training.
Before training
Please take off any jewelry, rings, bracelets, necklaces, earrings, and wristwatches before training. Do not leave money or valuables in the locker room; put everything in a bag and take it with you to the dojo.
When entering (or leaving) the dojo, you should bow in the direction of the Morihei Ueshiba's portrait. Etiquette requires that. Then go to the sensei and introduce yourself. If you see that the sensei is busy, wait until he is free to pay attention to you.
If you have recently had some sort of injury, be sure to tell your coach about it. In general, we recommend that you inform your instructor about all the peculiarities of your health. In Mumonkan Aikido Club each person who wants to practice Aikido should have a medical certificate.
On training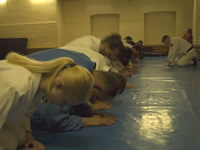 Each training begins with a greeting. All students sit down in a line upon command. The older students sit right to the Morihei Ueshiba's portrait and then the younger ones sit. The newcomers sit left at the very end. The greeting is a bow (or
rei
). First, everybody bows to the portrait of Morihei Ueshiba, the founder of Aikido, and then all students bow to the sensei, and the sensei bows to the students. The rei is a traditional element of the Japanese culture and is a courtesy. Japanese bow to each other when they meet, say goodbye or ask for something... Therefore a bow to Ueshiba's portrait is a tribute to the founder of Aikido, a bow to the sensei is a respect and a request to teach as well as the sign that you are willing to listen to him and do all the instructions. The bow after class is a sign of gratitude for training and new knowledge, and a sign of farewell as well.
We do not waste our time for common physical exercises during the workout. The warm-up consists exclusively of
special moves and safety tips
.
Therefore, you'd better come to the dojo in advance, 10-15 minutes before the start. In this case, you will have enough time to get prepared for the training, stretch and warm-up by doing the common exercises. Please remember that the common physical exercises should be done from top to bottom (i.e., first warm-up your head and neck, then your shoulder girdle, trunk and legs) or in the reverse order – from the bottom up.
If you would like to learn more about warm-up for martial arts we recommend you to watch a set of exercises for stretching (in Russian). This set is demonstrated by Mr. Dzhamal Azhigirey, a master of martial arts, a wushu champion, an actor and a stuntman.
If you miss the beginning of the training, stepping on the tatami is forbidden without the sensei's permission. In this case, just stand on the edge of the tatami and raise your hand to attract his attention. Only after you get the permission, you can join the group.
For more details on the workout procedure in the Mumonkan Aikido Club please read the "Aikido training routines" article. However, you are most likely to carry out some easier tasks. Perhaps we will disappoint you, but please do not expect that you will learn some techniques at your first lesson. You will start from learning some basic movements and safety tips.
They are an integral part of success in Aikido mastering. Please note that each person has a different perception of Aikido. One is quick to grasp all movements while others need to think them over. The main thing is not to worry about something that you may fail to do at once. What is more important is to understand that as you learn aikido, your body undergoes certain changes. Gradually, it rounds into form that will allow you to follow the technique of the martial art you have chosen, and steadily master it. So persistence and work will pay off finally, and you will learn what you seek for.
What else should pay attention to?
When the sensei explains something and gives the next task to the group, you should stop exercising and sit down, even if the task is not addressed to you.
If you need to leave the gym during the training, go to the sensei (or to the instructor who is working with you) and ask for permission.
For more details on the rules of behavior in the dojo and Aikido training please read a separate article at our website.
After the training, you can go to your sensei and ask him additional questions regarding payment, attendance, training methods, etc. In addition, the sensei may have some questions to you.
Want to join us? First lesson is free! Choose dojo and welcome.
See also